c_Creative
Reconciliation
Get to Know an Artist: Nathan Meguinis joins Doug Driediger in transforming mural into message of hope.
Muralist Nathan Meguinis wants kids to draw on walls. 
Most kids at some point get in trouble for drawing on the walls. For Nathan, drawing on walls as a kid has led to an impressive and creative career as a muralist, so he encourages the practice. Everyone has to start somewhere, after all. 
Self-taught artist, illustrator and muralist Nathan Meguinis, from the Tsuut'ina (Dèné Nation), is also known as Buffalo Boy, Travelling Rock and Kind-Hearted Man. As a shy child who struggled with expressing difficult emotions, Nathan's parents encouraged him to channel himself through art. He took to drawing right away and never stopped. At age 5, his grandma Bessie (who would give him the name Buffalo Boy) entered one of his drawings into a school contest. He won. He's been winning ever since. 
Nathan's art draws heavily on indigenous symbology, particularly related to his Tsuu T'ina heritage. Everything in his art has a deeper meaning, down to the choice of colours. His bold style (that he calls Abstract Realism) also draws inspiration from illustration and anime, making his style a pleasing mix of the very traditional and the very contemporary. 
Most recently, Nathan completed two spectacular murals for the City of Calgary, for the Beltline Urban Murals Project (YYC Bump)(2020 and 2021). Last year he created, "Buffalo Nations Stand and Be Noticed," and then "Travelling Family" for The Children's Advocacy Centre this year. This latest mural was for their "sacred space project;" a special area created for Indigenous families as a smudging area.

Finding a path forward
We are honoured and delighted to announce that Nathan has undertaken a commission to transform an existing mural here at cSPACE in partnership with BUMP who are transforming Calgary into an expansive open-air urban art gallery. On the northside of our creative hub along 29th avenue are the beginnings of a mural with a whimsical portrait of the building's namesake, King Edward VII. Painted in 2018 by muralist Doug Driediger, the work depicts a King embellished with artistic symbols, evoking the arts use that has transformed the school. Yet in 2021 with tragic accounts of indigenous children buried in unmarked graves at residential schools, the symbol of a King enforces an uncomfortable history with colonialism. 
How can we remember the past, acknowledge our present, but have a dialogue about a more inclusive, safe and welcoming future we imagine? Taking note of the TRC's recommendations, we noted that Action #83, encourages that through art we can "undertake collaborative projects and produce works that contribute to the reconciliation process" as a path forward.  In response, rather than cover up the past, Nathan will be working together with the original muralist, Doug Driediger, to transform this work of art through collaboration. The new mural will incorporate the old painting while creating a new perspective, showing a commitment to change and a path going forward towards reconciliation. 
The new work will see a portrait of Chief Bull Head mirroring the portrait of Edward the VII. Among the many symbols in the piece, perhaps the most meaningful will be the addition of magpies carrying orange ribbons from one side of the painting to the other. Doug Driediger will paint some of the magpies as they migrate from Edward and across the painted sky. Nathan's magpies will continue the trajectory, heading towards a sunrise that heralds a new day for all of us.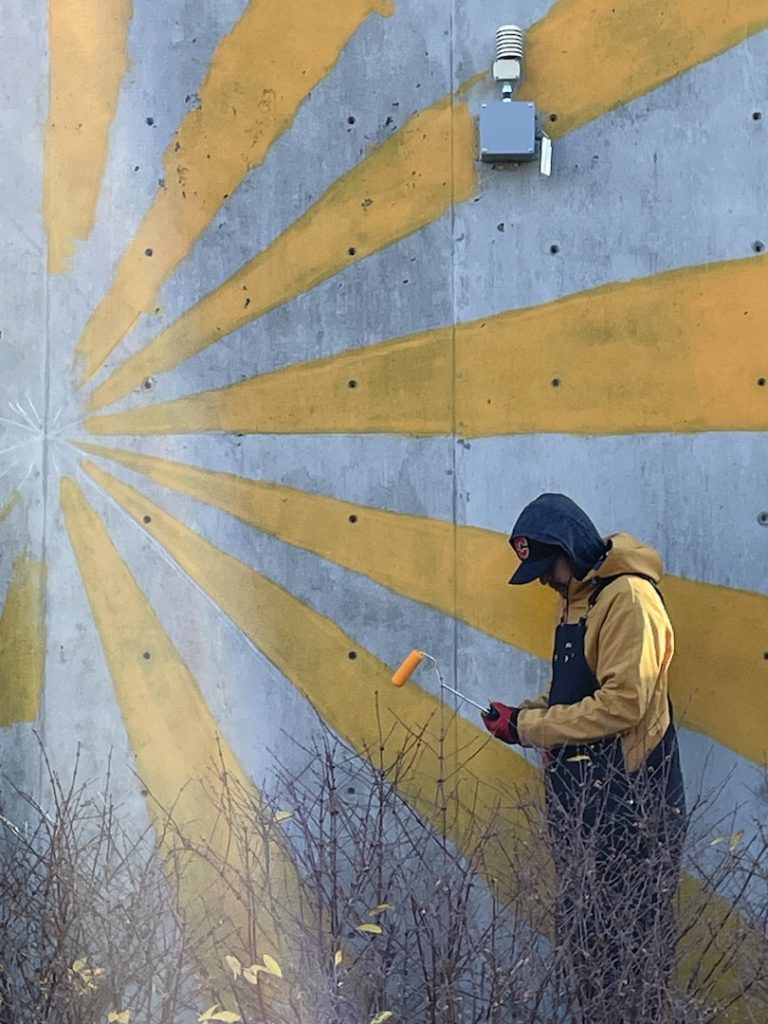 We asked Nathan a few questions about the King Edward project Here's what he told us.
CS: How did you feel about being asked to work on and transform this particular mural?   
NM: In all honesty I was very thankful to be even asked and the opportunity to paint with Doug was truly an honour and an opportunity I wouldn't miss.
What are you most looking forward to in this process? 
NM: …realizing I will be painting with Doug and…having Doug paint his magpies to tie in the wall mural. Also free handing Chiila [Chief Bull Head].
Back when I was a teen, Doug's mural located downtown Calgary (with the Dove and the giant hands with the blue cloudy sky background) had inspired me to do a major mural like this. I made it a personal goal that I will be doing major murals like this someday. And now…I went beyond that goal and [am doing] a collaboration artwork with the artist himself that inspired me to work towards a goal.
As people experience and enjoy this beautiful reimagined piece of art, what do you hope they will take away from it? 
I hope they can envision a new possibility and remember the true intentions of the international Peace Treaties. I am always open to the interpretation of the general public and I like the overall art connection which helps in bridging cultural gaps.