The 20/20 Wavelength Project Lights Up the Night
Phase Three of the 20/20 Wavelength Project Lights Up Art Park
The community based project that answered "What Matters Now" culminates in 4 stunning temporary public art pieces on the lawn of cSPACE. 
What is the 20/20 Wavelength Project? 
2020 was a year that brought a lot of things into focus for people. The global Covid-19 pandemic shut down a huge part of our regular lives here in Calgary, as it did in the rest of the world. In the summer of 2020, when we were only a few months into the pandemic, we at cSPACE became obsessed with the question of "What Matters Now." As all our normal routines were disrupted, Covid-19 was taking a huge toll on lives as well as mental health, and people all over the world stopped for a moment to evaluate their priorities. What really does matter now? The 20/20 Wavelength Project was our way to focus a creative light on the introspection we saw all around us, and foster a connection with the community. 
Phase 1 and 2
An incredible lead artist, Andy Moro, was engaged to probe the community with this question. What Matters Now? Andy reached out to different circles within our Calgary community, including artists, children, our tenant community here at cSPACE, people in our neighbourhood, local indigenous communities, and others. The responses were curated into an exhibition that inhabited three floors here at cSPACE and showcased people's responses. Phase 1 and 2 of the 20/20 Wavelength Project captured songs, stories, dances, poems, video testimonials and turned into video loops that were then projected onto walls, sculptural installations and large multi-paned windows hung in the hallways. Level 1 of our hallway gallery was dedicated to drawings from artists at the National Access Arts Centre that were blown up and printed onto large translucent plexiglass panels that were poetically suspended in the space. The exhibition launched during Alberta Culture Days on September 26th, and lived in our hallways until the end of October.
Phasing into Phase 3
With Phase 1 and 2 of the 20/20 Wavelength Project complete, it was time to tackle the third and final phase of the project. Phase 3 involved reorganizing the video pieces from Phase 1 and 2, and incorporating them into sculptural elements installed on the four metal framed Art Cubes located on ArtPark at cSPACE. The cubes would be lit, and fitted with QR codes and AR technology to display the curated videos on people's phones who stopped to visit. Four gorgeous animal designs were cut from sheet metal and hung inside the ArtCubes. They provide a link to the land's history, just as the AR technology connects us to the future, and the outpouring of heartfelt reflections from our communities ground us in the present. 
We hear from the artist in charge
Now that Phase 3 is complete and lighting up ArtPark at night, we stopped to talk to Andy about the inspiration for this final phase. His thoughts are below:
The animals made themselves the centre of this piece! I was working to create a conceptual framework for the human stories we have gathered on video… I found myself looking at the people that have lived on this land – and especially the people that call this territory home – from time immemorial. 
I am not from the Nations that call Mohkinstsis home turf. It is not my place to represent traditional practices or traditions of the Siksika, Kainai, Piikani, Îyâxe Nakoda or Tsuut'ina nations. To respect their presence from time immemorial, I went to the people that have shared the territory and those are the creatures that have joined us. The Buffalo, Rainbow Trout, Great Horned Owl and the Deer are traditional inhabitants of this territory, sharing the land with the Blackfoot Confederacy. This is a way of acknowledging that stewardship.
It will be miraculous to see these big animal people looking back at us from their new home at cSPACE. It is our hope that…these creatures will spread that understanding and reflect the deep beauty and history of this place. We need every ounce of beauty we can get in this time. If Wavelength contributes to that quiet beauty we will have achieved something sincerely significant.
What is Andy looking forward to in completing the 20/20 Wavelength Project? "Standing in the literal glow of What Matters Now."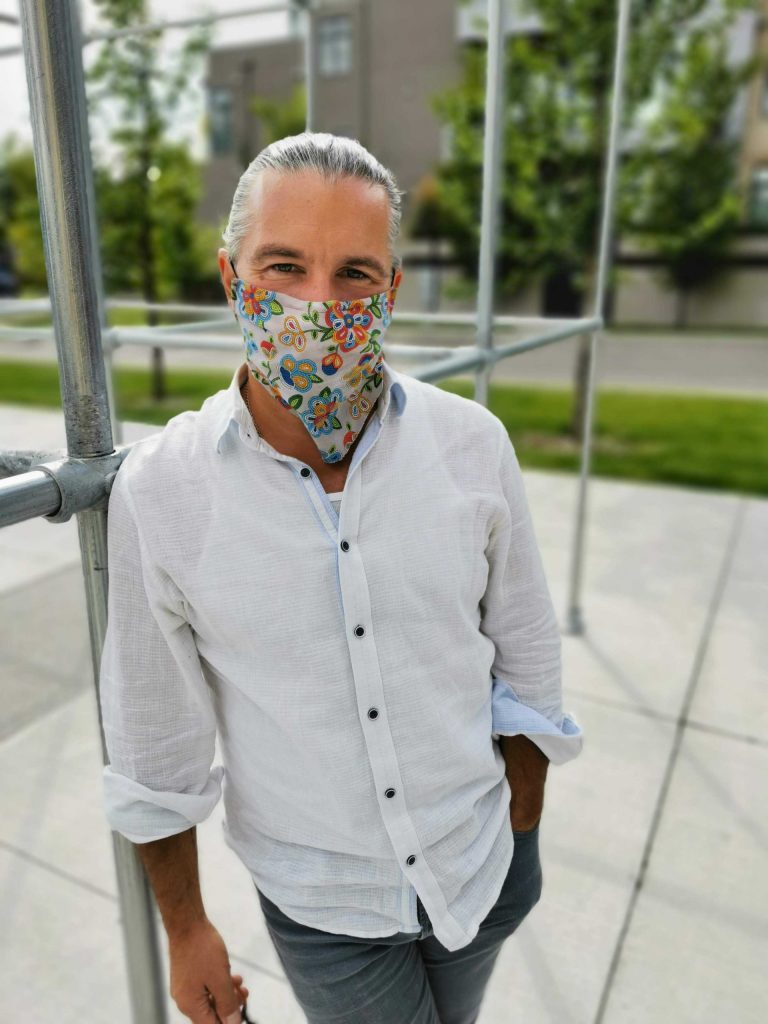 Thanks and thoughts
Many thanks go out to our incredible sponsors on this journey. They include Alberta Culture Days and the Government of Alberta, who provided the incentive to create something original at cSPACE that would connect all the contributions of our communities. 
We are also sincerely grateful for the support and enthusiasm from our neighbours at The Edward and Rockwood Custom Homes, our partners at the National Access Arts Centre, and our champions at the trailblazing architectural firm, Lemay. 
Another deep thank you goes to the contributors to Wavelength, including but not limited to members of Willow Park School, Alliance Francaise, and people who answered the callout on social media with creativity and heart. Artists from our own cSPACE community, Brian "Bunny" Batista, Maxime Beauregard, and Paul Timm are among the others who brought something special to the exhibition. We are indebted to those professional artists outside of cSPACE who contributed their time and energy into answering the call, because art matters now more than ever. Thank you to Wakefield Brewster, Albert Goulet, Alanna Bluebird-Onespot, Brenn Royal, Chantal Vitalis, Jason Galeos and Devery Bess. 
A huge thank you goes out to the talented and delightful Andy Moro who answered an artist call that sounded like "a dream MFA thesis project" and has aced his dissertation. We couldn't have done it without you! Thanks and virtual hugs go out to Andy's dedicated team; Graham Kingsley, Jessie Paynter. Film video support by the Napi Film Collective, Siksika Nation, and Katy Whitt Photography.
And finally, a special thank-you to artist Kellie Wallis Hampton who helped seed, shape and supply artistic agency behind the 20/20 Wavelength Project's early development. In Kellie's words, "There is a sociocultural phenomena happening right now during this unprecedented time, locally and globally, there is a commonality, a common thread, an awareness, an evaluation, a reevaluation of what is essential, of what matters."